Are you sure that your pool is in 100% condition?
Book a FREE pool or spa analysis and we will tell you.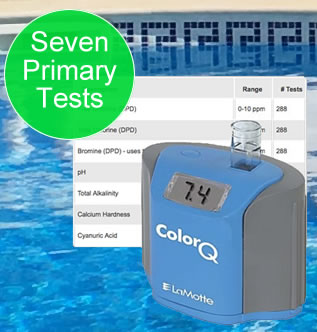 Have you ever watched your pool cleaner test the chemical levels of your pool or spa? It is unlikely that anything other than a simple pH test would have been done, ignoring other critical factors that may be out of kilter. The correct chemical balance will not be accurately measured with a simple squirt of agent and a number of costly issues could be developing that are currently being ignored.
By taking a digital snapshot of your waters composition we are able to advise on the correct cause of action to keep things running 100% safely, healthily and economically.
COMPLETE THE FORM BELOW for your free analysis.

We test your pool or spa for water for seven critical factors
Free Chlorine: Free Chlorine is the chemical that cleans your pool but soon becomes spent and less effective requiring regular test and application.

Total Chlorine: Includes "spent" less efficient chlorine present that will require removal.

Bromine: Is more stable than chlorine at spa temperature but can be used in pools as an alternative for people with naturally sensitive skin.
pH Levels: The balance of acid-alkalinity must be maintained as too much acid will corrode metal equipment, cause pool surface erosion and skin irritations. Too much alkaline causes scaling to surfaces and pipework. We aim to maintain a level of 7.4 (the same pH as a tear drop).

Alkalinity: Keeping the Alkalinity in check prevents a multitude of issues such as pitted, cracked, etched or delaminated pool surfaces, discoloured metal and pool walls, stinging eyes, nasal passages and skin.
Calcium Hardness: Some calcium hardness is necessary to prevent damage to grout, plaster, metal rails and even concrete decking however high levels can cause catastrophic damage and incessant cloudiness.

Cyanuric Acid: Prevents chlorine being lost prematurely due to high exposure to sunlight, too much reduces the effectiveness of the chlorine and will make the water go cloudy.
Ellis and his team have been looking after my pool for several years now and I cannot recommend him enough. His knowledge and advice has been invaluable – he really knows his subject.
We have been using Ellis of Pools4U for the past year and I must say that compared to the company that maintained our pool before them, it now sparkles! They do a fantastic job, always prompt and courteous. No problem is too small so if you want your pool to be and look sparkling clean we highly recommend Pools4U – you won't be disappointed.
Pools4u provide an excellent, first class friendly service with dependability, reliability and honesty using their wealth of experience of pool and spa maintenance in the Algarve.
As a non resident it is great to know that my pool is being looked after properly. They provide text and video updates to assure me that all is ok.

I am always told how great my pool looks and would whole heartedly recommend Pools4u to everyone.
I have worked with Ellis for almost a year and have been very pleased with his overall service. The pool is always impeccable and he continues to be very reliable and easy to communicate with.

He has also taken his own initiative in detecting potential problems before they occur, preventing costly repairs in the future. I will recommend his service to friends and clients.
Book your FREE analysis online.